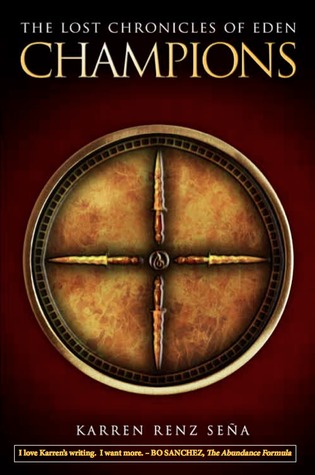 It is known that we are not alone in this world. You could think of aliens, gods and goddesses, celestial beings and whatnot. But whatever it is you wish to believe that is out there, wouldn't it be awesome to see beyond the normal and be a part of that world? Us average people, given a chance to become better than we are?
I'm all for patriotism, and that entails supporting products that are made from my homeland, the Philippines. As a big reader, this means I read books that are made here. Now I may have been kind of discouraged at some point *coughWattpadcough*, but that doesn't mean that one should lose hope. There are great famous ones, crappy-that-one-wonders-how-they-were-even-published famous ones, and those hidden gems slowly emerging and breaking through the stereotypes of literary genres in our country. Champions: The Lost Chronicles of Eden is one of them.
Gabriel has always felt lost. Despite having a family through Father Andres, Sister Margarette, and the rest of the incessant children from where he was found years ago, he knew he was meant for something more than just school and cleaning duties. The answers he had been looking for are with his mysterious and strangely attractive classmates Solenn, Solomon and Selina. Now Selina was alright, but the other two were a whole different story. Little did he know that these people will open him up into a different world than his own, with new people and places to discover that have the answers to all the questions he had his entire life. Answers and more.
Written by Karren Renz Sena, Champions is the beginning of the series following the life of not only Gabriel but the other six Champions in the story as well. Each Champion has their own struggles, with one most likely we will identify with. I find myself smiling at some parts, thinking 'This is me right there'. We are like them too, and we have the power to overcome our fears and doubts and be the Champion we were meant to be. I cannot wait for the books to come for this wonderful series.
Champions: The Lost Chronicles of Eden is available on all bookstores for P250 or buy the eBook version here.